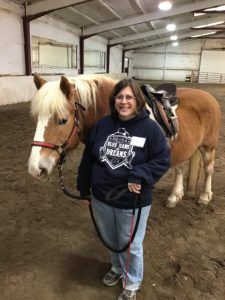 As Elizabeth Andrew once said, "Volunteers do not necessarily have the time; they just have the heart." Whether HETRA's volunteers are students, full-time workers seeking altruistic activities, or retirees with a passion for philanthropy, they have all chosen to dedicate part of their day/week/month/year to the service of HETRA and its mission. For that, we are truly grateful. This week, our highlighted Volunteer is Amy Reiner.
"Five years ago, I was looking for some way to give back but wasn't sure what to do. Then I found HETRA," said Amy. "I had such a love of horses as a child that I thought HETRA would be perfect. Now, not only do I get to spend time with the horses and help others, but I have gained a second family. When I walk into the barn and see my friends (horses and people alike), all my stress goes away. It's my bliss."
Amy came to us after volunteering for another Equine Therapy Group in Iowa called Magic in Motion. When that organization closed, Amy went on "Volunteer Match" and searched for other organizations that worked with children and animals; HETRA was the first to populate. Amy has since qualified for all HETRA volunteer positions and typically serves as Horse Leader and/or Barn Leader. She was named the Barn Maintenance Volunteer of the Year in 2018, and also enjoys participating in special events like Stall & Treat.
"Amy is an amazing volunteer who livens up the barn as soon as she arrives," said Rachelle Tidwell, Volunteer Coordinator for HETRA. "She brings her sense of humor with her when she comes, which makes her reassuring and approachable to even our newest volunteers. Her encouragement to staff and volunteers is genuine, and she can find a positive in every situation."
Thank you, Amy, for all you do for HETRA. We're so happy to volunteers like you!