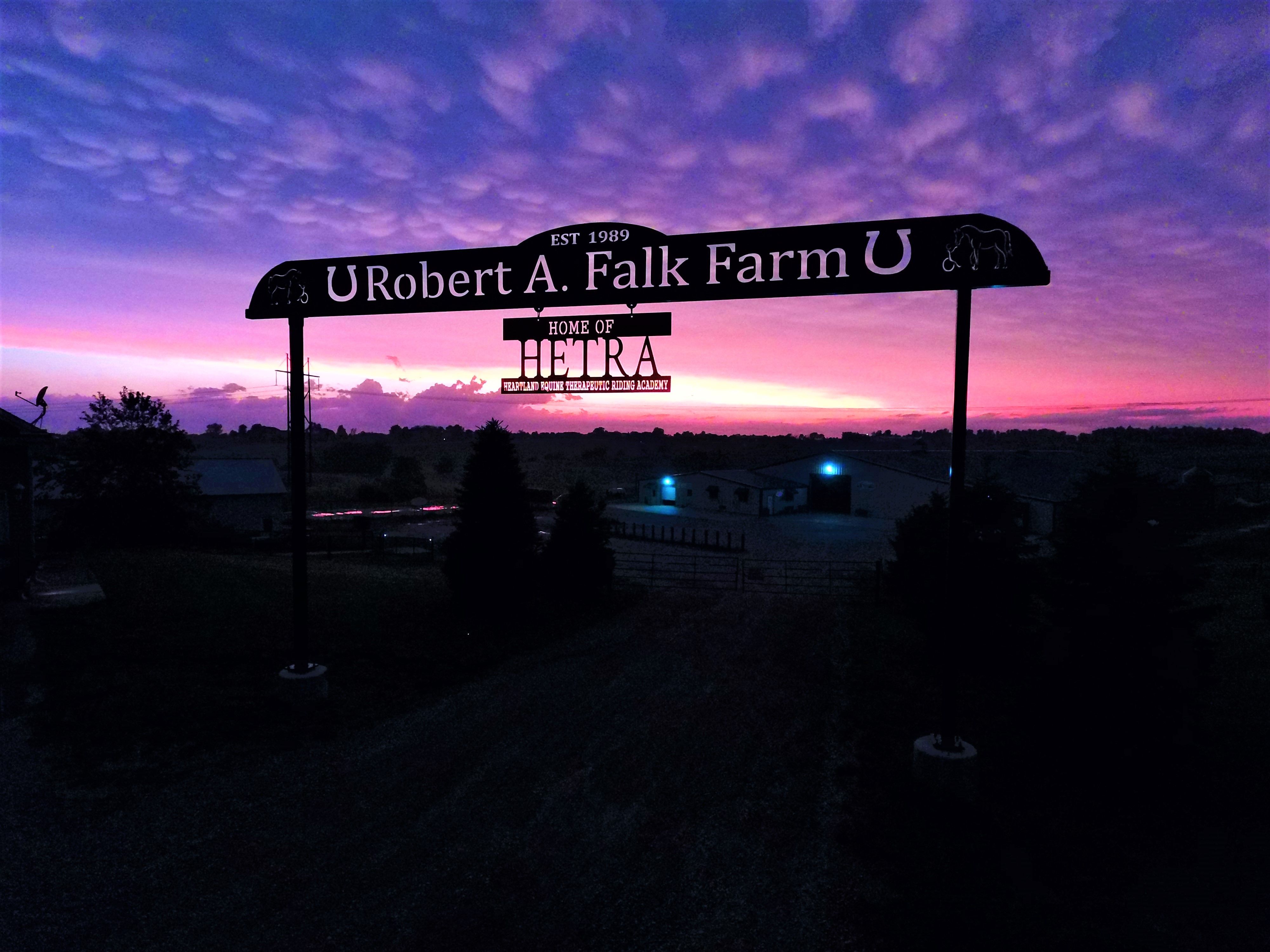 A Conversation with HETRA's CEO on the Organization's Past, Present, and Future.
Sharon Ralls Lemon, Editor of Horse Illustrated magazine, once said: "The essential joy of being with horses is that it brings us in contact with the rare elements of grace, beauty, spirit, and freedom." Since 1989, Heartland Equine Therapeutic Riding Academy (HETRA) has been connecting the community with the joys and the therapeutic benefits of equine-assisted activities. While the majority of HETRA's staff, instructors, therapists, and volunteers have always been "horse people," not all of their participants necessarily came to HETRA with that background. It doesn't take long, however, for even the most skeptical of people to realize the awe-inspiring power of being near a horse.
HETRA's Mental, Occupational, Physical Therapists, and PATH Intl. Certified Instructors have used Equine-Assisted Activities to serve a variety of participants with disabilities such as cerebral palsy, spina bifida, muscular dystrophy, cystic fibrosis, brain tumors, head or spinal cord injuries, visual impairment, autism, developmental delays, and strokes. Military veterans impacted by service-related injuries and/or PTSD have also found programs at HETRA dedicated to their needs. As more people have come to realize the benefits of Equine-Assisted Activities, the demand for HETRA's services has indeed grown. As HETRA begins its 31st year in operation, I sat down with Edye Godden, CEO of HETRA, to reflect on the past, present, and future of HETRA.
A History, Based in Family
"I became involved with HETRA in my senior year of Occupational Therapy School at Creighton University," said Edye. "I picked Hippotherapy as my focused project and found out about a fairly new local program called HETRA. I partnered with HETRA for my senior project.  Soon after I graduated, I was contacted to see if I had an interest in replacing HETRA's therapist, who had moved out of State. I started with HETRA as a therapist on a volunteer basis, and the rest is history!"
Edye Godden grew up showing horses. She received her first pony, Sparkle, when she was six-years-old. Sparkle was described as a "very naughty pony" to the point that might have turned off any other person to a life of being around horses. Edye, however, was hooked and has enjoyed horses in her life ever since. Soon after Edye joined as a volunteer therapist, HETRA moved to Edye's ranch and stayed there for 19 years. This level of proximity had an obvious impact on her family.
"My kids grew up at HETRA. My girls both share my love and passion for horses. We continue to show horses on a regular basis, and we've now started breeding horses as well.  Both of my girls truly volunteered to help with HETRA sessions, activities, and events whenever they could. My youngest daughter, Cassidy, was a mock rider from the time she could walk.  Mock riders help us test the horses, allowing us to verify that the horse is comfortable with all of the toys, noises, lights, and activities that will likely take place in a therapeutic session. Cassidy is now pursuing a degree in Occupational Therapy. My oldest daughter, Shelby, pursued an Equine Science degree. Even with that under her belt, I would have never guessed that she would come to work for HETRA, first as a Certified Therapeutic Riding Instructor and now as the organization's on-site Horse Manager."
After a few years of working with HETRA as a therapist, Edye became the organization's Executive Director. She has served as the non-profit's principal leader ever since, and so I thought it would be fitting to get her thoughts on where the organization was at each five-year milestone in HETRA's history.
"At our five-year point in 1994, we had some small growth. We had moved to the Valley facility. We had undergone instructor certification and had achieved additional training in hippotherapy. By the time HETRA's tenth anniversary came in 1999, on the cusp of the new millennia, I decided that HETRA was something that I really wanted to pursue on a full-time basis.  I had seen over the last several years what an impact it could make, and we were limited by how many people we could serve. In 2004, we had continued slow growth with adding staff, volunteers, and horses as well as additional days for programming. By our 20th year, we were now operating out of two facilities; my Valley barn, and Katherine Smith's Omaha location. In 2014, Mustaches for Kids and several local foundations helped us make the 2014 transition to our new facility, which really skyrocketed HETRA to a new level; it also made a long term dream come true for us. In 2019, we celebrated our 30th year in operation, and I'm looking forward to the next 3-5 years as the organization and program offerings continue to expand."
A Positive Current Impact
While it is not the only Equine-Assisted Therapy organization in Nebraska, HETRA takes great pride in being the only PATH International Premier Accredited Center in the entire state. This accreditation has not only guaranteed that HETRA maintains the National Gold Standards for Equine-Assisted Activities, but it has also influenced HETRA's impact on the industry on a national scale. HETRA has been recognized at several PATH International regional conferences. Through these conferences, Edye has built relationships with and helped mentor other facilities in the country. In terms of the local area, HETRA has become a staple in the community.
"The Greater Metro Omaha area has been amazing with their support of HETRA over the years. From individual donors, volunteers, companies large and small, and foundations, they have been the backbone of funding for the program. Sarpy County and specifically Gretna graciously welcomed us into their community when we moved to the area in 2014. HETRA loves its current location, The Robert A. Falk Farm facility in Gretna, Nebraska, and we make it a point to connect with our neighbors as often as possible." 
As for HETRA's Staff and Volunteer community, several of HETRA's Board of Directors joined after their friends and families experienced what it's like to be a participant in one of our programs. Grant Janke, for example, had a very personal connection with HETRA, which led him to champion their fundraising campaigns in the community.
"My son utilizes several services provided by HETRA," said Grant, "and those services have had a tremendous impact. When my son started as a three-year-old, he was only able to take 4 to 5 consecutive steps at a time. After just four sessions, he was able to take 40+ consecutive steps. Another eight sessions after that, he was able to walk more consistently. I wanted to be able to give back to the organization as a result."
"I was introduced to HETRA through my wife, who serves as a Volunteer and Equine Specialist for the Life Skills classes," said Mike Doiel, another member of HETRA's Board of Directors. "I could see the impact HETRA's unique program offerings make on the participants and veterans. I wanted to be part of an organization that improves people's lives. HETRA relies on philanthropy, and we have such incredible support from the surrounding communities in which we live and work. Our supporters, often connected through relationships to our participants or veterans' family members, have seen the positive outcomes that come directly from our service offerings."
A Future Mindset
2020 marks HETRA's 31st year in operation, a first step into the organization's fourth decade of serving individuals through Equine-Assisted Activities. The first three decades saw location changes, new partnerships, staff transitions, and an uptick in demand for services. Annual campaigns like Drive 2 Ride, Horse of the Year, and HETRA's signature benefit event, Blue Jeans and Dreams, were created to provide opportunities for businesses and individuals to be a part of HETRA's impact: improving the quality of life both physically and emotionally of adults and children, one stride at a time. The work at HETRA never stops, and Edye Godden predicts only more to come in HETRA's future.
"I see us continuing to grow both in the number of individuals that we serve, as well as the type of programming that we offer. I also see us taking more of a regional and national role in the field of Equine-Assisted Activities. Part of that role includes participating in research projects that show how and why this type of therapy works." HETRA is currently working with Creighton University to launch a research project focusing on the effectiveness of a 6-week hippotherapy program in children with autism spectrum disorder. They are anticipating a spring start to this project.
Like many 501(c)3 organizations, HETRA consistently looks toward the future. Whether it be through Strategic Planning Meetings, community cultivation projects, or inspirational outings like the recent Vision Board retreat, led by HETRA's Mental Health Therapist, Kelli Hatzenbuehler, Edye's team regularly brainstorms what the organization's future goals are, and what is needed to meet those goals.
"Building a strong infrastructure of staff and volunteers is extremely important. That's something we have already done but will continue to do in order to keep the organization strong."
Just like everything else that HETRA has achieved, Edye knows that the organization's goals won't be accomplished without the support of the public. It is an understatement to say that HETRA could not realize it's mission of improving people's lives through Equine-Assisted Activities without the help of volunteers, donors, advocates, and the hundreds of caring hearts throughout the local area. So long as HETRA's doors stay open, the organization will thrive through its partnerships in the community.
"The community can help HETRA achieve these goals in so many ways. Businesses and individuals can come volunteer, follow us on social media, sponsor events, donate items for our special events, or even sponsor our amazing participants and awesome horses. HETRA started in a very grassroots manner and has continued into our 31st year as a result of that grassroots support. Every donation, whether that be dollars, time, talent, or items, means so much to us here at HETRA. Together, it all adds up and allows us to continue on our mission."
HETRA currently serves over 140 participants every week, with something going on in the barn seven days a week. Prospective participant and volunteer tours occur on-site every other week, and HETRA is also involved in several events throughout the Omaha and Gretna communities every month. As the organization looks toward the future, HETRA invites any and all who are interested in joining HETRA's mission to reach out through the website (www.HETRA.org). There's always a place at HETRA for those willing to make a positive impact in the life of someone in need.
Written by Joshua Howell – Development Specialist- Campaign & Events Management