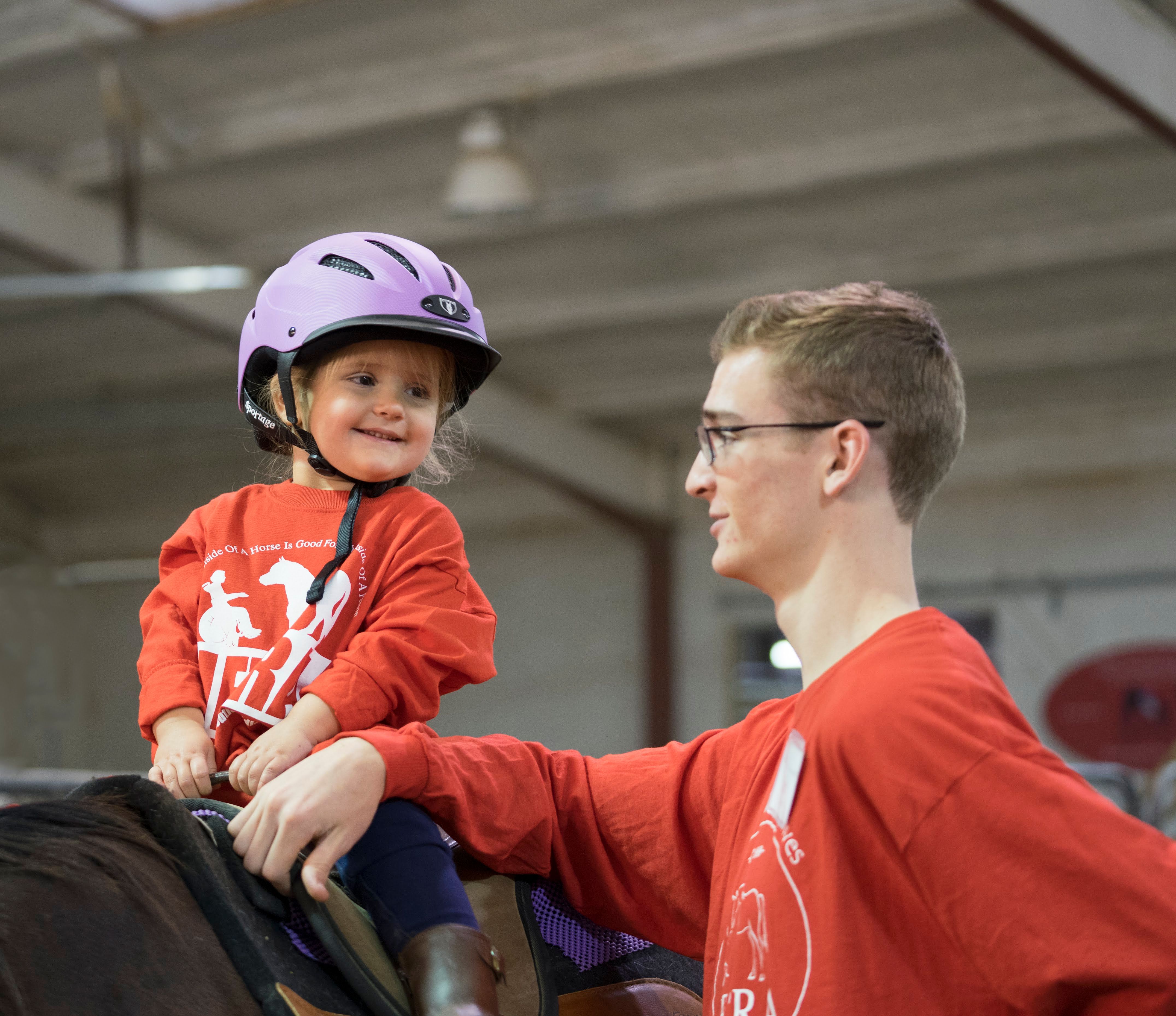 If anyone knows the sheer value of a volunteer, it's a 501(c)3 non-profit organization. Like many non-profits across the globe, Heartland Equine Therapeutic Riding Academy (HETRA) relies heavily on its core of volunteers to make a difference in the community. From dawn till dusk on a daily basis, volunteers from all over the Omaha Metro stop by the HETRA campus in Gretna, Nebraska, to assist with horse care, life skills lessons, and therapy sessions. This past Saturday, HETRA hosted its annual Volunteer Appreciation Awards Ceremony to commemorate and celebrate these treasured individuals for all of their hard work and support.
Why Do People Volunteer?
Volunteering remains an important activity in the lives of millions of Americans, as it allows people the opportunity to support organizations that serve others. According to the Corporation for National and Community Service's 2018 Volunteering in America report, over 77 million people in American volunteered that year for a total of nearly 7 billion volunteer hours. Volunteers were most attracted to organizations that made a difference in their communities. Not only did those people volunteer their time, but they tended to be ambassadors and fundraisers for those organizations throughout the year.
This especially rings true for HETRA's volunteers. They show up every day because they are able to witness the immediate impact of their service with families in need. As HETRA is currently the only PATH International Premier Accredited Center in Nebraska, the demand for its services has spiked in recent years. This means that there is never a dull day at the facilities, and volunteers are never short of opportunities to make a difference in someone's life.
Volunteering Literally Makes You Feel Good!
Over the past few years, several scientific studies have reported that volunteering actually has been shown to have numerous health benefits. A 2019 study, "Altruistic behaviors relieve physical pain," was published in the Proceedings of the National Academy of Sciences and found "consistent behavioral and neural evidence that … acting altruistically can relieve painful feelings in human performers." Furthermore, the study revealed that even rudimentary physical tasks, when performed in a volunteer environment, can bring more relief to the body than in other settings.
This report, combined with a similar 2017 study entitled "The Mediating and Moderating Effect of Volunteering on Pain and Depression, Life Purpose, Well-Being, and Physical Activity," seems to solidify the notion that volunteering not only brings purpose to people's lives but also a measurable relief from physical and mental pain. So, while HETRA's volunteers serve to improve lives within their community, they are simultaneously receiving internal health benefits through their work.
What Type of People Volunteer at HETRA?
HETRA offers programs in Adaptive Riding, Therapy Services using Hippotherapy as a treatment method, Equine Services for Veterans, Adaptive Carriage Driving, and Life Skills Training. On top of that, HETRA's barn sits on 25 acres that require significant maintenance and upkeep. So, one can imagine the level of help needed daily to keep everything up and running. Thankfully, HETRA has attracted tons of volunteers from many different walks of life; military veterans, youth and students as young as twelve-years-old, retirees as old as seventy-nine-years-old, former and current participants, former and current staff members, horse connoisseurs, and even people with no equine backgrounds whatsoever.
"Volunteering is an expression of a generous heart, a dedication to the community and a commitment to a common mission," said Rachelle Tidwell, who has served as HETRA's full-time Volunteer Coordinator since Fall of 2018. "HETRA volunteers are exceptional in that they invest and support each other as individuals, many forming friendships that go beyond the barn. They understand the importance of unity and work to keep the team moving in the same direction, striving towards a common goal. They see the barn as a respite from their own worries, time spent connecting with friends, horses and participants."
The Importance of Showing Gratitude 
Over the past few years, corporate culture across the world has begun to focus more on Employee Experience. Businesses have learned the importance of treating their employees with as much care, respect, and compassion as they treat their customers. A positive Employee Experience in the workplace is no longer seen as "fluffy stuff," but a quantifiable influence on the company's bottom line.  
In the same way, HETRA recognizes the impact of its volunteers on the success of the organization's overall mission. Many of HETRA's administrative staff started as volunteers and continue to serve in their free time. Without the dedication and service of these generous individuals, HETRA would struggle to keep up with the demand for its services.
Volunteering at HETRA is both fun and fulfilling, and each individual can actually witness the everyday impact of their actions. This doesn't mean, however, that volunteering is always stress-free. On a campus that utilizes 20+ horses (or equine partners) to serve over 140 participants every week, tensions can run high at times when it comes to schedule coverage, special events/activities, and (especially in the Midwest) changes in the weather. For this reason, as well as many others, HETRA understands the need to consistently evaluate how well they convey their gratitude to their volunteers.
While the annual Volunteer Appreciation Awards Ceremony is a dedicated event to express their thanks, HETRA's leadership makes it a point to recognize volunteers throughout the year. Weekly, top volunteers are celebrated both internally and externally, as well as rewarded with HETRA bucks which can be used for HETRA gear/apparel, educational materials or courses like Horse Academy, or other gifts. Throughout the year, volunteers are included in preparation committees for some of HETRA's most significant campaigns, as their input is incredibly valuable to the staff. Smaller outings and get-togethers are also scheduled during the year to thank and cherish volunteer groups continually.
In the Spring of 2019, HETRA partnered with local 4-H members as well as an Eagle Scout unit to give the Volunteer Lounge a much-needed makeover. The Lounge was repainted and equipped with a new refrigerator, new lockers, and new shelves for a library of educational materials and equine-related books. HETRA volunteers logged over 26,000 hours in 2019. So, it goes without saying that they definitely deserved an updated, comfortable spot in the barn to call their own.
The True Heart of HETRA
In 1989, HETRA began with one participant, one horse, and three volunteers. In the 31 years since then, HETRA has grown significantly and continues to grow as more and more families realize the benefits that equine-assisted activities have on their lives. While some volunteers prefer to serve behind the scenes in vital roles like feeding and barn maintenance, many serve front and center as sidewalkers and horse leaders, working hands-on with HETRA participants. Every day, each participant family sees the positive impact that these individuals have on their children and adult family members. Not only is HETRA incredibly grateful for the hundreds of volunteers that serve throughout the year, it continually works to show its gratitude to those individuals. HETRA's volunteers put a lot of heart into their work. Without their dedication, HETRA could not continue to improve the quality of life both physically and emotionally of adults and children of all ability levels through equine-assisted activities.
Written by Joshua Howell - Development Specialist- Campaign & Events Management