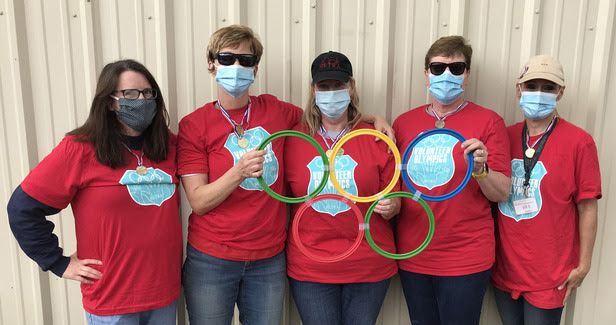 If you've ever been out to HETRA's campus, you've probably seen lots of different people performing different tasks. There's always some folks cleaning the stalls. There are usually a few people walking the horses to and from their outdoor pens. You'll find a few people sidewalking with participants in the arena. These are all members of HETRA's volunteer force, and we relying heavily on their service to fulfill our mission of improving the quality of life both physically and emotionally of adults and children of all ability levels through equine-assisted activities. They truly put the "HEART" in HETRA!
Lately, we've been fairly short on volunteers due to a whirlwind of reasons. During this time of year, many of our summer volunteers have returned back to school. Of course, Covid-19 has taken a toll on everyone's availability this year. Finally, there are some folks that have moved out of the area. So, it goes without saying that we are in need of new volunteers. Likewise, we have been working hard to show our true appreciation for our current crop of volunteers. Many of them have been doubling or tripling their shifts to fill the gaps. So, last weekend, we held a Volunteer Olympics Event to celebrate their hard work! It was an absolute blast and ended with a relaxing happy hour and some pies to the face! Check out the videos here!
Did you know that several scientific studies have reported that volunteering actually has been shown to have numerous health benefits? A 2019 study found "consistent behavioral and neural evidence that … acting altruistically can relieve painful feelings in human performers." Furthermore, the study revealed that even rudimentary physical tasks, when performed in a volunteer environment, can bring more relief to the body than in other settings.
This report, combined with a similar 2017 study entitled "The Mediating and Moderating Effect of Volunteering on Pain and Depression, Life Purpose, Well-Being, and Physical Activity," seems to solidify the notion that volunteering not only brings purpose to people's lives but also a measurable relief from physical and mental pain. So, while HETRA's volunteers serve to improve lives within their community, they are simultaneously receiving internal health benefits through their work. We care so much about them, and we cannot express our thanks enough for their service. 
If you'd like to join the ranks of HETRA's Volunteer force, or you know someone who would be interested, check out our Volunteer Page or reach out to Rachelle, HETRA's Volunteer Operations Manager, for more info!