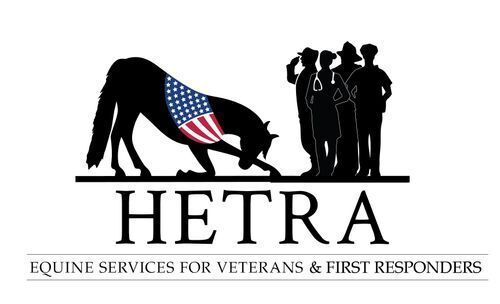 HETRA offers a variety of options for the Veterans/Service Members & First Responders in our community.  If you are not sure what is the best fit for you please contact us and we can talk you through all of the options!  Below is a brief listing of our current programming.
---
Coffee Hour

Veteran & First Responder Coffee Hour is an opportunity to share stories, memories, and current veteran/first responder community needs, all while watching the HETRA horses get ready for the day. Our Veteran & First Responder Coffee Hour does not require registration. Feel free to drop in at any time between 9:00-10:30 am for coffee, donuts, and stories!
---
Project Team

A group of Veterans & First Responders meeting to enjoy a time of fellowship as well as putting to great use their skills and talents while giving back to a nonprofit. We will be working on large-scale projects such as building, painting, and construction as well as technical projects like gardening and landscaping. Projects will be dependent on attendance, weather, and if the horses are being used in riding sessions at the same time. The group will be provided with tools and beverages.
---
Equine Experience Events

Our Veteran & First Responder Community is invited to HETRA's Equine Experience Events. Participants will take part in Equine-Assisted Services designed to engage the senses, learn different communication techniques, and discover how our equine partners can assist us with reintegration into our communities. Herd Dynamics, Leading, and Grooming serve as the foundation of the experience.

These events are open to Veterans, Active Duty Military, First Responders, Spouses, significant others, caregivers and children (5 years and older). The participants will learn more about HETRA and our mission, and begin to interact with the horses through Equine-Assisted Services. The participants will find that this event offers a comfortable and supportive environment tailored to meet their needs.
We are excited to host our Veteran Advanced Horse Academy this fall! Join us from 6-7 pm at Valley, NE for eight dates of advanced learning*
*Please note: Must be 14 years of age & have attended an initial Veterans Experience within the past year or be an active weekly participant in one of HETRA's programs.
Please contact Edye Godden with any questions at 
Edye@HETRA.org or 402-359-8830
---
Veteran & First Responder Wellness Coaching

These sessions are offered on Monday evenings from 7:00 to 8:30 pm. Time is spent in both the classroom as well as in the arena working with the horses. Sign up for one or all of these coaching sessions with HETRA's Mental Health Therapist. Space is limited at this time to 4 individuals per class so sign up soon - MUST Register through this link! These events are stand-alone activities so please sign up for and attend what works for your schedule. Session Topics include:

1. Personal Development (weekly topics cover Goal Setting, Building Self-Esteem, Stress Management, & Self-Reflection)
2. Relationship Development (Relationship Goals, Effective Communication, Connection & Praise, Family Dynamic Problem Solving)
3. Work/Life Balance (Work Goals, Problem Solving, Time Management, Leadership Skills)

With horses as our equine partners, we will explore the following topics that affect our everyday life - goal setting, decision making, problem solving, and perspective. Come join us for a fun and innovative way to gain new insight into ourselves through the eyes of the horses. **Please note that the class will be canceled if we have less than 2 participants - you will be notified by HETRA if it is being canceled.
---
Volunteering

Interested in spending a few hours a week at the barn helping others? Volunteering has been known to counteract the effects of stress and anxiety. Helping and working with others can have a profound effect on your overall psychological well-being. Nothing relieves stress better than a meaningful connection to another person.
---
Riding Sessions

HETRA offers weekly riding sessions to Veterans/Service Members & First Responders at no charge. In these sessions, our HETRA team works to create meaningful bonds between the Veteran, First Responder, and the horses. Riding horses can create a natural sense of calm and trust. This greatly aids in long term rehabilitation, and it's only one of many ways that horses can help.