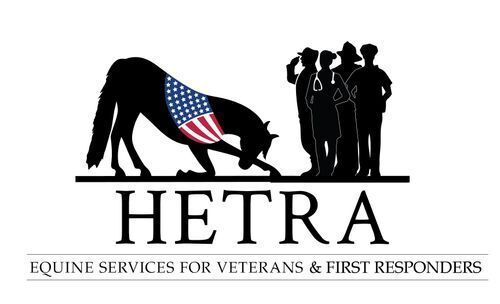 HETRA offers a variety of options for the Veterans/Service Members & First Responders in our community.  If you are not sure what is the best fit for you please contact us and we can talk you through all of the options!  Below is a brief listing of our current programming.
---
Coffee Hour

Veteran & First Responder Coffee Hour is an opportunity to share stories, memories, and current veteran/first responder community needs, all while watching the HETRA horses get ready for the day. Our Veteran & First Responder Coffee Hour does not require registration. Feel free to drop in at any time between 9:00-10:30 am for coffee, donuts, and stories!
---
Project Team

A group of Veterans & First Responders meeting to enjoy a time of fellowship as well as putting to great use their skills and talents while giving back to a nonprofit. We will be working on large-scale projects such as building, painting, and construction as well as technical projects like gardening and landscaping. Projects will be dependent on attendance, weather, and if the horses are being used in riding sessions at the same time. The group will be provided with tools and beverages.
---
Equine Experience Events

Our Veteran & First Responder Community is invited to HETRA's Equine Experience Events. Participants will take part in Equine-Assisted Services designed to engage the senses, learn different communication techniques, and discover how our equine partners can assist us with reintegration into our communities. Herd Dynamics, Leading, and Grooming serve as the foundation of the experience.

These events are open to Veterans, Active Duty Military, First Responders, Spouses, significant others, caregivers and children (5 years and older). The participants will learn more about HETRA and our mission, and begin to interact with the horses through Equine-Assisted Services. The participants will find that this event offers a comfortable and supportive environment tailored to meet their needs.
---
Volunteering

Interested in spending a few hours a week at the barn helping others? Volunteering has been known to counteract the effects of stress and anxiety. Helping and working with others can have a profound effect on your overall psychological well-being. Nothing relieves stress better than a meaningful connection to another person.
---
Riding Sessions

HETRA offers weekly riding sessions to Veterans/Service Members & First Responders. In these sessions, our HETRA team works to create meaningful bonds between the Veteran, First Responder, and the horses. Riding horses can create a natural sense of calm and trust. This greatly aids in long-term rehabilitation, and it's only one of many ways that horses can help.